Location:
Home /
Projects /
Iao Hon Estate
Iao Hon Estate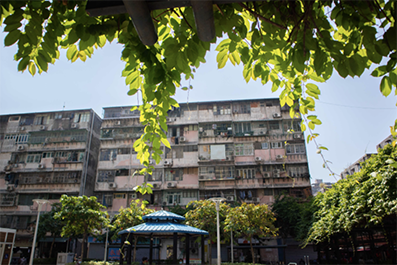 "Iao Hon Estate" is MUR's first urban renewal project of an old neighbourhood. Iao Hon Estate Research Study was completed in 2021, including collecting property owners' and residents' views and suggestions on redeveloping the old neighbourhood, which helps establish a data foundation for the project.

Location: Rua Oito do Bairro Iao Hon to the north, Avenida da Longevidade to the east, Seng Yee House and Man Sau House to the south, and Estrada dos Cavaleiros to the west;

Iao Hon Estate: Hong Tai House, Kat Cheong House, Son Lei House, Heng Long House, Mau Tan House, Man Sau House and Seng Yee House. These seven blocks of buildings have in total 2,556 residential and commercial units.
MUR is promoting the redevelopment under the existing legal framework, continuously going to the neighbourhood to gather property owners' contact information and meet them to discuss the project. Based on the progress of collecting property ownership, priority to redevelopment would be given to the block of housing whose property ownerships are more complete, and the redevelopment would be pushed forward on the basis of the law and in accordance with the urban planning policies. As the key to redevelopment is to have a consensus, property owners need to get in contact with MUR to discuss redevelopment.
Macau Urban Renewal Limited (MUR) is promoting the Iao Hon Estate old neighbourhood renewal project. To address the estate's property owners' need for assistance, the company is helping condominium owners from the estate's seven blocks of flats hold general assembly meetings and set up management committees (also known as property owners' associations) with the aim of uniting homeowners and encouraging them to play an active role in the estate's redevelopment process. At present, MUR has already helped property owners of Iao Hon Estate's Son Lei House, Seng Yee House and Hong Tai House hold meetings and set up management committees, gradually pushing forward the redevelopment process.
The concept design for the redevelopment plan of Iao Hon Estate has been preliminarily completed and MUR representatives has been meeting Iao Hon property owners to brief them about the plan. MUR continues to collect views and suggestions of property owners and relevant entities in order to build a consensus.
Located on the 3rd floor of Mong Ha Social Housing – Edifício Mong Tak in Rua de Francisco Xavier Pereira, a showroom of temporary housing units were opened for public viewing in July 2021 to let residents have a better understanding of supporting measures available when their homes are being redeveloped during the urban renewal process. The majority of property owners agree with the design of the temporary housing units, which helped boost their confidence in the redevelopment.
At present, MUR has collected most of Iao Hon Estate's property owners contact information, and is continuously looking for the rest of them so that any issues regarding ownership could be resolved as early as possible in preparation for redevelopment.
Iao Hon Estate Research Study | Read More
Research team: Root Planning Cooperative
Urban Planner Lam Iek Chit

Architect Lui Chak Keong

Retired Macau Polytechnic Institute (IPM) Associate Professor in Social Work Programme So Man Yum
Publishing date: May, 2021
Between Iao Hon Estate and us
A Walk through Iao Hon Estate