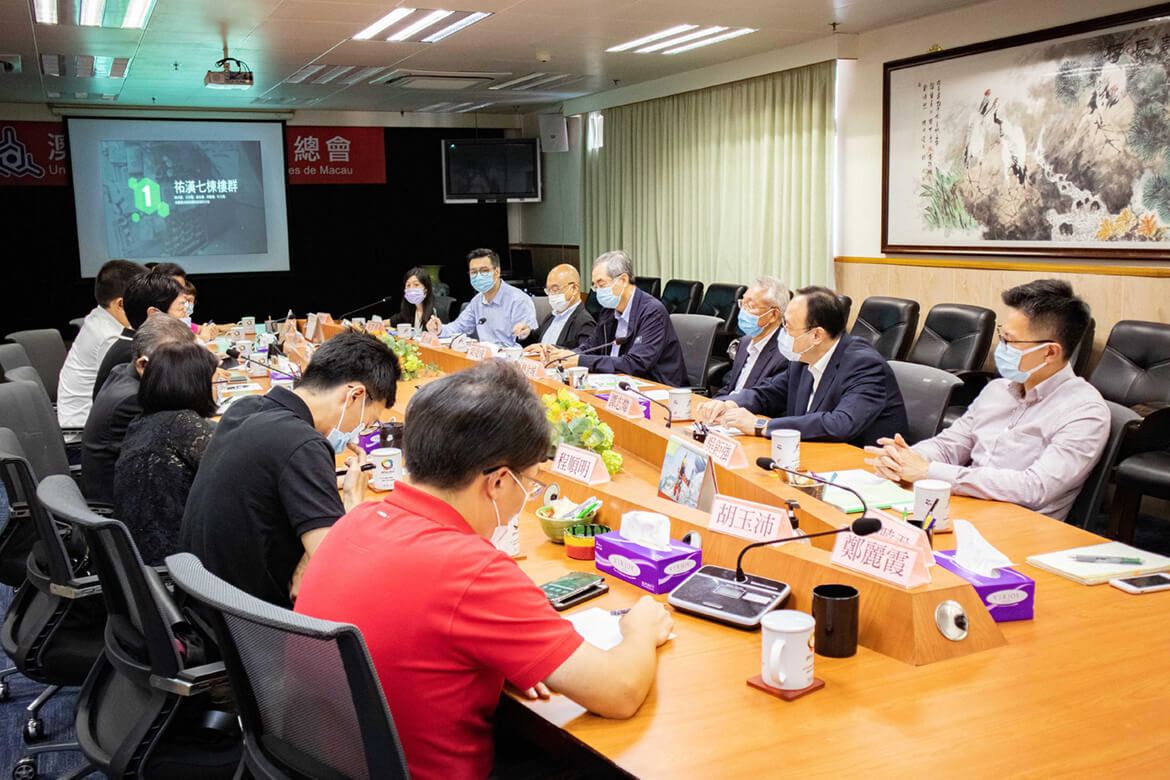 MUR visits General Union of Neighbourhood Associations to discuss Iao Hon redevelopment (UGAMM)
Macau Urban Renewal (MUR) visited the General Union of Neighbourhood Associations (UGAMM) and was warmly welcomed by the association's president Ng Sio Lai. They had an in-depth discussion about the redevelopment of Iao Hon Estate.
MUR Chairperson Peter Lam Kam Seng said that since the establishment of MUR last year, the company has started working on the revitalisation of old districts. By carrying out a research study at Iao Hon Estate to gauge citizens' wishes on redevelopment, the company could progressively revitalise old districts in Iao Hon, adding environmentally friendly features and greened areas without increasing housing density.
However, complicated issues such as property ownership, construction and habitants' wish to return to their original units must be solved during the process of redevelopment. As UGAMM and Association of Bairro do Antigo Hipódromo, Areia Preta and Iao Hon Neighbourhoods are closely connected with the community, they play an important role in promoting urban renewal. MUR hopes that the assistance and efforts from all sectors would facilitate the revitalisation process of old districts.
Besides underlining the poor living conditions in Iao Hon, Ng said that many residents there are seniors with mobility difficulties and in relatively bad financial situations who have to deal with ongoing problems such as water seepage and neighbourhood security.
Poor sanitation in the area has always been one of UGAMM's concerns, and that the association has been actively helping the community. Ng said complicated issues such as ownership, inheritance and construction costs are expected to arise when the area is being redeveloped, adding that tackling these issues would not be an easy task.
Ng said that as UGAMM is deeply-rooted in the community, the association would do all it could to help MUR connect with property owners of Iao Hon Estate, thus contributing to the urban renewal work in Macau.
During the meeting, MUR representatives also presented Lot P project in Areia Preta where temporary housing and home swap units would be located, as well as the layout design and progress of the Macau New neighbourhood (MNN) project, which is due to be constructed in about three years. MUR will provide further updates on the projects in due course.